Back to Events
November Membership Luncheon
Tuesday, November 16, 2021
Event Details
Join us on Tuesday, November 16th, for our next membership luncheon featuring guest speaker, Mayor Jim Strickland.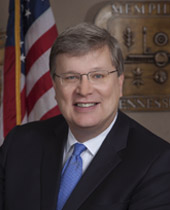 Jim Strickland was sworn in as mayor of Memphis for a second term on January 1, 2020, with a continued pledge to reinvest in our neighborhoods, our citizens, and to keep growing our economy.
Mayor Strickland has prioritized a transparent and communicative government — including initiating a weekly email update to citizens that frankly tackles the city's challenges as well as celebrates successes. (Subscribe to the mayor's Weekly Update here.) The improvement of core city services and commitment to transparency and trust are part of what Mayor Strickland calls a "brilliant at the basics" philosophy of city government, where his administration tackles core city services to allow the growth of Memphis to multiply. Because of the intense focus in this area, the City of Memphis was recognized as one of the best run Cities in America by What Works Cities earning a silver certification. This was an independent and objective assessment of our ability to deliver as a data driven government….one of only 13 cities in America with this distinction.
Mayor Strickland is a 1982 graduate of Christian Brothers High School, a 1986 graduate of the University of Memphis and a 1989 graduate of the School of Law at the U of M. He practiced law at Glankler Brown PLLC from 1990 to 1998, when he began practicing at Kustoff & Strickland PLLC, where he remained until becoming mayor.
Associate Spotlight
Deadline to register: November 10th
Cancellations received after the deadline date will be billed due to financial obligation to the venue.
New members who have joined AAGM since our last Luncheon.
Community Members:
Addison
Chapel Place Homes
Associate Members:
MidSouth Removal, LLC
Dunlop Services, Inc.