Back to Events
November Membership Luncheon
Tuesday, November 19, 2019
* Registration open until 11/18/19 at 12:00 PM ()
Event Details
Join us on Tuesday, November 19th, for our next membership luncheon featuring guest speaker, Mayor Jim Strickland. Plus, we'll elect the 2020 AAGM Board of Directors and you can sign up for committees for 2020!
About the Speaker: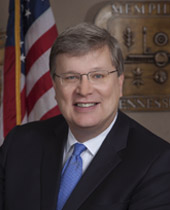 Jim Strickland was sworn in as mayor of Memphis in 2016 and was just recently re-elected to a second term. Mayor Strickland's vision is to reverse population loss through a strategy that reinvests in Memphis' core and its neighborhoods — changing a long-held view that Memphis should grow outward. In his 2018 State of the City speech, the mayor said his administration will focus on "building up, not building out."
Public safety is the mayor's No. 1 priority. His initiative to rebuild the Memphis Police Department has resulted in two of the largest police recruit classes in more than a decade and the first annual net gain of officers in seven years.

Mayor Strickland has prioritized a transparent and communicative government — including initiating a weekly email update to citizens that frankly tackles the city's challenges as well as celebrates successes. (Subscribe to the mayor's Weekly Update here.) The improvement of core city services and commitment to transparency and trust are part of what Mayor Strickland calls a "brilliant at the basics" philosophy of city government, where his administration tackles core city services to allow the growth of Memphis to multiply.
Mayor Strickland is a 1982 graduate of Christian Brothers High School, a 1986 graduate of the University of Memphis and a 1989 graduate of the School of Law at the U of M. He practiced law at Glankler Brown PLLC from 1990 to 1998, when he began practicing at Kustoff & Strickland PLLC, where he remained until becoming mayor.
Associate Spotlight